Vicky Lindo Plate at Adam Partridge Auctioneers & Valuers
Venue details
Adam Partridge Auctioneers, Cheshire Saleroom, Withyfold Drive, Macclesfield, Cheshire SK10 2BD
Additional information
Bids can be made in-person or online (worldwide).
Don't miss out on this unique opportunity to purchase a Vicky Lindo ceramics work at auction.
Vicky Lindo and William Brookes have generously donated their 'Seed Head' plate for auction with Adam Partridge Auctioneers & Valuers as charity fundraiser for BCB. 'Seed Head' is lot 630 in the Studio Ceramics auction, taking place Friday 29th April 2022.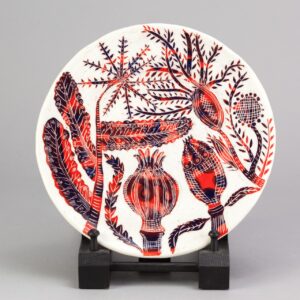 About the artist
After dabbling in ceramics at college and in evening classes Vicky Lindo and William Brookes opened their studio in Devon and began making full time in 2013. Neither had studied ceramics seriously but Vicky had become obsessed by a collection of North Devon slipware held at The Burton Art Gallery and Museum. Since becoming completely absorbed in making Vicky and William continued to make highly decorative pieces inspired by ceramics and pottery from the past. 
During the British Ceramic Biennial 2019 festival Vicky and William were announced as the prize winners of the headline exhibition AWARD with the poignant body of work Dead Dad Book. As AWARD winners they were invited to exhibit in British Ceramics Biennial 2021 with an entirely new body of work Luteal and Follicular.
Dead Dad Book was purchased by the V&A in 2020. Their work is represented by Alveston Fine Art and can be found in the Fitzwilliam Museum and many important private collections around the world.
Date of the auction
View the work: 10am-5:30pm Thursday 28 April 2022
Bid for the work: From 10am Friday 29 April 2022
Who can bid?
Sales are held every few weeks at The Cheshire Saleroom with every auction streamed live online via www.the-saleroom.com, and adampartridge.co.uk giving collectors worldwide the opportunity to participate.
For more information
Visit the Studio Ceramics auction page on the Adam Partridge Auctioneers website.
View lot 630, 'Seed Plate', on the Adam Partridge Auctioneers website.