The British Ceramics Biennial (BCB) is delighted to announce that All Saints Church in Joiner's Square, Hanley will be the hub for its 2023 festival, taking place from 23 September to 5 November. All Saints Church is a Grade II listed building, designed by architect Gerald Horsley in the Arts and Crafts style, and has a rich history in the ceramics industry.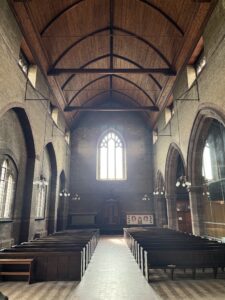 A Brief History of All Saints Church
Built between 1911 and 1913 as an expansion of an earlier parish church, All Saints Church was "built by the potters, for the potters". It was paid for, in part, by George Meakin of J. & G. Meakin, a company that had several factories in and around Joiner's Square, including the current Emma Bridgewater factory site. 
Since its renovation and expansion, All Saints Church has continued to serve its community in various ways, including its connections to the ceramics industry. Reverend Geoffrey Eze has acted as a good friend for Emma Bridgewater staff, and in recent years, the church has provided space for exhibitions, live music, filming, performance, and photography. 
About BCB 2023
The 2023 festival will showcase leading contemporary artists working in clay, with exhibitions, installations, and events celebrating the rich history and diversity of the art form. All Saints Church and its neighbouring church hall will serve as the main venue for the festival, providing a beautiful and historic setting for visitors to experience the best of clay and ceramics.
"We are so pleased that All Saints Church will be the hub for our 2023 festival. The church's connection to the ceramics industry and the city's potters alongside the stunning architecture make it an extremely fitting venue for presenting contemporary ceramics. It's a venue that invites connections between today's artists and the artisans of the past who would have been very familiar with the church and its surroundings. We are excited to share this beautiful and historic space with visitors from around the UK."
– Clare Wood, Chief Executive & Artistic Director of British Ceramics Biennial
The full BCB Festival programme will be announced later this week. With thanks to Potteries Museum and Art Gallery Assistant Curator Ben Miller for research support with this announcement. 
About the British Ceramics Biennial
The British Ceramics Biennial (BCB) is an arts organisation based in Stoke-on-Trent with a vision to make change through clay.  
BCB develops, sustains and expands innovative ceramics practice and improves lives together with artists and creative communities. This is done by delivering an engaging year-round programme of artists' commissions, learning and community projects. All of which feed into a festival of contemporary ceramics that takes place in Stoke-on-Trent. 
Initiated in 2009, the BCB Festival has grown to be the single largest contemporary ceramics event in the UK. The BCB Festival presents artworks from the UK's leading ceramicists alongside work by international artists, in exhibitions and special events held across the city every two years. 
BCB works in partnership with organisations and individuals in the museums, cultural, industry, business, education, community and voluntary sectors across the city in the development and delivery of projects with a particular focus on public engagement. 
The next BCB Festival runs from 23 September to 5 November 2023.  
British Ceramics Biennial Funders
British Ceramics Biennial is proud to be an Arts Council England National Portfolio Organisation and is supported by the City of Stoke-on-Trent Council and Staffordshire University, alongside multiple project-based funders.