Flower-making at Trentham Shopping Village
Venue details
Trentham Shopping Village Trentham Estate Stone Road Stoke On Trent Staffordshire ST4 8JG
Join legendary Rita Floyd for clay flower-making at Trentham Shopping Village 14th and 15th March as part of Visit Stoke's Open Weekend!
Rita has been making ceramic flowers since the early 1970's when she left school at the age of 15 to go straight into an apprenticeship at Longton pottery firm Adderleys. In 1974, Rita was paid by the dozen flowers – 8 petals per flower – 6 new pence per dozen. A dozen flowers took Rita 15 minutes to make.
Come along to Trentham Shopping Village this weekend for an expert demonstration by Rita before you try your hand at making your own flower to take home.
Trentham are throwing open their doors this weekend to celebrate culture and creativity. Snap a flower-making selfie with Rita and share on social media using #MyStokeStory to get FREE admission to Trentham's gardens this weekend only.
Simply show your posted picture to our team at the Main Garden's Entrance to enter for free and experience the culture & heritage of Trentham Gardens.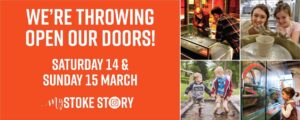 This activity is part of a special Open Weekend, celebrating the creativity and culture in Stoke-on-Trent and encouraging visitors to get making.
Other cultural venues throwing their doors open including Middleport Pottery, Gladstone Pottery Museum, World of Wedgwood and Potteries Museum and Art Gallery. Find out more about the Throw Open.