Rising stars of the ceramic world selected for Fresh at the British Ceramics Biennial.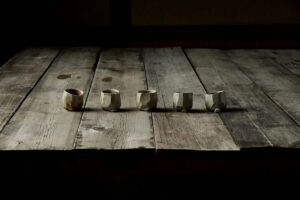 Twenty-five early career ceramic artists have been selected for Fresh, one of the flagship exhibitions of the British Ceramics Biennial festival, which takes place in Stoke-on-Trent from 11 September to 17 October.  
From YouTube tutorials and community workshops to degree programmes and apprenticeships, Fresh 2021 celebrates the rich and diverse learning opportunities that are shaping ceramics today.  
 Fresh brings critical attention to artists from the UK and Ireland at a launch moment in their creative practice by shining a spotlight on their work. This year's line-up celebrates their personal journeys in clay, which cross cultures, continents and forms of expression. The selection includes: 
Popalini & Jezando, who taught themselves to throw with the help of You Tube and advice from potter Philip Leach, and now create contemporary pots influenced by traditional north Devon pottery and understated Japanese forms;

 

RCA graduate Ian Thompson, a painter who fell in love with ceramics and whose work is inspired by studying ceramic and painting traditions of the past;

 
Sarah Strachan, who discovered clay at community art clubs before studying fine art and now tackles environmental issues in her multidisciplinary practice, working with both manufactured and 'wild clay'.

 
The Fresh exhibitors were selected by a panel of artists, makers, educators and learning designers led by artist and curator Helen Felcey, who comments: 
'The works featured in the exhibition celebrate the unique learning pathways that each maker, artist and designer has followed. Some discovered clay as a child or while studying in the community, while others found the medium through college and university. These bright new talents are united by their intention to embark on careers within the ceramics field – and by their extraordinary achievements.  Each artist opens our eyes to the vast material possibilities of the medium. Their commitment to artistic discovery represents the courage of new beginnings, providing what we all need at this moment in time.' 
The 2021 Fresh exhibitors are: Abi Wills, Antonio Fois, Becky Hoghton, Chloe Monks, Cicely Peers, Corinna Reynolds, Dorcas Casey, Elizabeth Jackson, Fiona Underhill, Gerald Mak, Ian Thompson, Janet Ann Lines, Karl Sebastian, Katy Stubbs, Leora Honeyman, Lexie Macleod, Nico Conti, Nicole Waefler, Oriel Zinaburg, Popalini & Jezando, Rosie Harman, Sarah Strachan, Serena Quinn, Valerie Bernardini, Valerie Zoz. 
A number of Fresh Talent Residencies will be awarded during the BCB festival. The residencies will take place through partnerships with Staffordshire University and Guldagergaard International Ceramics Research Centre, in Denmark, with the selected artists then showing their work in the 2023 BCB festival. 
The British Ceramics Biennial is a vibrant five-week festival of new artist commissions, exhibitions and hands-on events that celebrate the life, character and creativity that ceramics bring to Stoke-on-Trent. The main hub of the 2021 festival is the 19th century former warehouse, The Goods Yard in the heart of Stoke Town, with other festival activity taking place at the original Spode factory site, The Potteries Museum & Art Gallery and AirSpace Gallery. 
Fresh 

2021

 selection panel:
· Helen Felcey – artist, educator and curator
· Bisila Noha – artist, trustee at Headway East London, co-director at Lon Art, part of Design Can
· Shane Porter – designer and Lecturer, Belfast Metropolitan College
· Dr Natasha Mayo – Senior Lecturer, Cardiff Metropolitan University
· Dr Neil Brownsword – Professor, Staffordshire University Lee Critchlow – Product Design Manager, Wedgwood Fiskars
· Youth Panel from Haywood Academy Secondary School, Stoke-on-Trent. Supported by Miss Helen Morgan