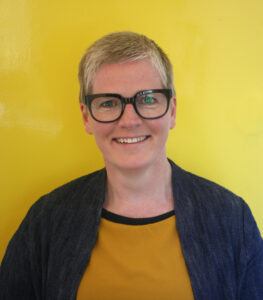 The British Ceramics Biennial (BCB) is delighted to announce the appointment of Clare Wood as its new Artistic Director and CEO. After three years as Chief Executive of Re-Form Heritage, a national charity that supports communities through the regeneration of their historic buildings, based at Middleport Pottery in Stoke-on-Trent, Clare will join BCB in August ahead of the seventh edition of its festival, which opens in the city on 11 September.
As well her experience working at the heart of Stoke-on-Trent's creative heritage, Clare brings to the organisation substantial knowledge of the wider cultural sector, having worked at organisations including MK Gallery, the Royal West of England Academy and with Stockholm's museums and cultural organisations. During her time at Re-Form Heritage, Clare worked closely on the campaign to reinstate bell founding to the famous Whitechapel Bell Foundry site and has been instrumental in the transformation of a terrace of former pottery workers' houses in Stoke-on-Trent to create a new heritage attraction, studio and workshop complex, a publicly accessible archive service and a community centre.
On her appointment Clare Wood comments:
"The rich heritage of the Potteries and the work of leading contemporary artists offers brilliant inspiration for encouraging people to discuss, experience and create with clay. It is a real honour to build upon Barney Hare Duke's innovating work and I look forward to being part of the British Ceramics Biennial team to develop both the festival and the year-round programme of activity throughout Stoke-on-Trent. I am very proud to be joining such a remarkable and pioneering organisation."
Alison Wedgwood, Chair of the Trustees of the British Ceramics Biennial comments:
'Clare's significant experience of leading cultural and creative organisations, most recently at one of Stoke-on-Trent's most iconic heritage sites, meant that she immediately understood the ambitions and ethos of BCB. We are very much looking forward to working with her to build on BCB's success and take the organisation into new, exciting directions.'
As part of her role, Clare will work alongside BCB Executive Director, Iain Cartwright to develop the the organisation's strategy for the next five years, as well as developing the BCB year-round artistic programme, and the programme for the 2023 BCB festival.